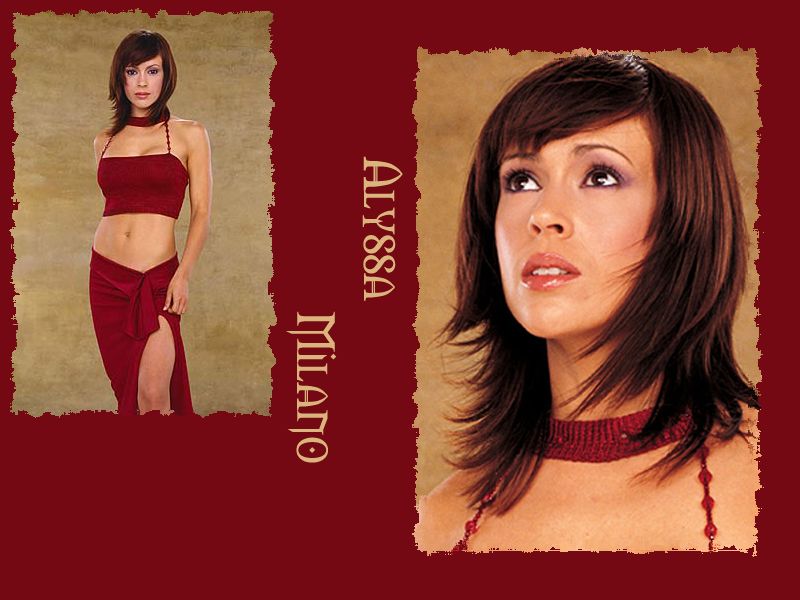 Alyssa Milano.....
Plays Phoebe Haliwell, the youngest-who has struggled and matured in the four years she has been a witch. One stormy night, in the attic of the great Victorian home she and her two older sisters lived in, she unwittingly read aloud an incantation from the rusty book of shadows, granting herself and her sisters their inheritence of witchcraft. She herself recieved the passive ability to see into the past and future, and sometimes the present itself. But her haunting power proved to be the strongest in spirit, since it takes a strong actress, let alone a strong character too handle the the gifts of being a witch and a woman...
Born and raised in Brooklyn, N.Y., Milano got her start with the national touring company of Annie. At 10, she was cast as Samantha Micelli in the long-running comedy Who's the Boss? starring opposite Tony Danza for eight years. The show ended in 1992, and she continued to hone her talents on both the big and small screens. Milano's next starring role was on the hit drama Melrose Place for two seasons.
Milano starred in the title role in the feature comedy Hugo Pool. Directed by Robert Downey, Sr. and co-starring Sean Penn, Malcolm McDowell and Richard Lewis, the film chronicled a day in the life of a Bel-Air pool cleaner (Milano). Her additional feature credits include the psychological thriller Fear with Reese Witherspoon and Mark Wahlberg, Double Dragon, Where the Day Takes You and Commando.
She has starred in a wide range of television movies including Braving Alaska, The Surrogate, Conflict of Interest, Candles in the Dark and in Gold Rush, an original television movie on The Wonderful World of Disney. She also guest-starred in an episode of Showtime's Rebel Highway.
On stage, Alyssa starred in Tender Offer,M a one-act play written by Wendy Wasserstein; All Night Long; and the first American musical adaptation of Jane Eyre. She returned to her theater roots in 1991 when she starred in and produced a Los Angeles production of Butterflies Are Free.
Milano has taken groundbreaking action to protect her rights and the rights of celebrities on the World Wide Web. She has won several copyright infringement suits, and has dedicated the settlement money to the launch of a new search index on the web, safesearching.com, a global community bringing a safe way to get the best entertainment information on the Internet. Milano resides in Los Angeles, Calif. And spends her free time writing, attending dance classes and traveling.
Rose McGowan...
Plays Paige Matthews, the long-lost half sister of the girls, a result to the forbidden affair of Patty Halliwell, and her whitelighter Sam. Paige's ability to orb in and out of dimensions was inherited by her father, and when united with her half sisters Piper and Phoebe, after Prue died, her ability to move things with her mind awoke, only she orbs them from place to place. Adjusting to her new sisters and lifestyle has been rough, but under control. Now, we know Paige is a good witch and a good whitelighter, but what about the woman behind the orbs?
One of six children, McGowan was a citizen of the world at an early age. Raised in Italy, she spent her childhood traveling throughout Europe. She returned to the U.S. to attend high school in Seattle.
A chance trip to Los Angeles resulted in her being cast in the film The Doom Generation. Her performance in Gregg Araki's dark and stylish road movie earned her a nomination for Best Newcomer at the 1996 Independent Spirit Awards. Also in 1996, Rose appeared in Wes Craven's smash hit Scream as Sydney's (Neve Campbell) doomed best friend who met with an unseemly death under a garage door.

Since this auspicious debut, McGowan has worked non-stop. In 1997, she had the distinction of starring in four films appearing at the Sundance Film Festival: Going All the Way, Louis & Clark & George, Nowhere and the short film Seed. In 1998, Rose starred with Ben Affleck and Peter O'Toole in the feature thriller Phantoms and in the independent film Southie, which won Best Picture at the 2000 Seattle Film Festival.
Recent starring roles include the 1999 dark comedy Jawbreaker, about three high school girls who conspire to cover up the accidental murder of their friend. In addition to her roles in Scream and The Doom Generation, McGowan was also seen in Monkeybone, co-starring Brendan Fraser. She will next star in the independent film Vacuums which was co-written and will be directed by Luke Cresswell and Steve McNicholas, the duo that created the Broadway hit Stomp.
McGowan currently lives in Los Angeles.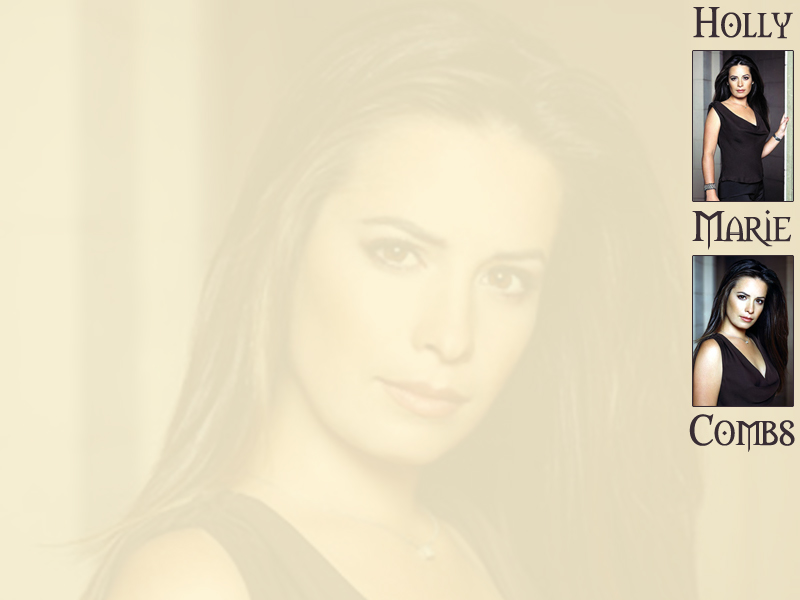 Holly Marie Combs...
Plays Piper Halliwell, married to the girl's Whitelighter Leo Wyatt, now eldest of the three after the death of Prue, and pregnant with the couple's daughter, a half-witch half-whitelighter, like Paige, and has the ability to freeze time and make objects and people-mainly evil-explode. Coming to her magic and powers as a witch, Piper was The Charmed One that basically felt negatively to being a witch, especially after big sis Prue died. After that, Piper felt that she should only continue with The Craft to save Paige from The Source, and to protect the rest of her family. But she has grown a lot, as a witch and a woman. She's toughend up a lot, and is now proud to be a witch....but lets take a look at the other sides of Piper that is Holly Marie....
Holly Marie Combs, popular with audiences for her role as teen-aged Kimberly Brock on the Emmy Award-winning series
Picket Fences,
returned to series television in
Charmed.
She most recently can be seen in Steven Soderbergh's remake of
Ocean's Eleven
opposite George Clooney and Brad Pitt in which she plays herself along with The WB stars Barry Watson and Joshua Jackson.
Combs was born in San Diego, Calif., and moved with her family to New York when she was 8 years old. Following her mother's footsteps as an aspiring actress, she began her career working in television commercials and print advertisements at age 10. She won her first movie role by 13, playing the daughter of Don Johnson and Susan Sarandon in the feature film Sweet Hearts Dance.
At 18, Combs got her big break starring for four seasons as the insightful daughter of parents played by Tom Skerritt and Kathy Baker in the critically acclaimed drama Picket Fences. In television movies, she has played an impressive range of starring roles, including the daughter of a murdered heiress in the fact-based Daughters, killer Diane Zamora in Love's Deadly Triangle: The Texas Cadet Murder and a rape victim in Sins of Silence.
In feature films, Combs also played a young girl propositioned by a wheelchair-bound Tom Cruise in the 1989 Vietnam War saga Born on the Fourth of July. Additional big-screen credits include Chain of Desire with Malcolm McDowell and Linda Fiorentino, and Simple Men.
Offscreen, Combs enjoys gardening and horseback riding. She lives in Los Angeles, Calif.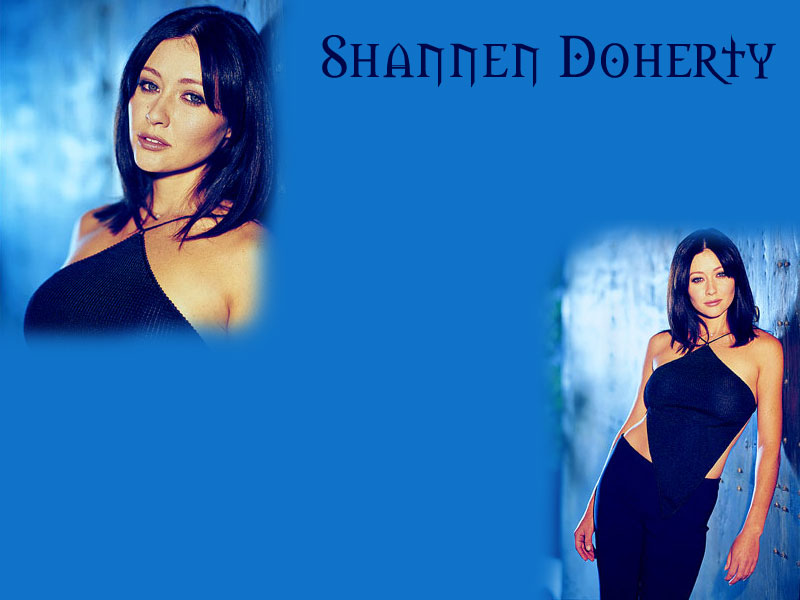 Shannen Doherty...
Played Prudence-Prue-Halliwell, the eldest of Piper, Phoebe, and now Paige. Weilding the powers to move things with her mind, a full-fillment of the prophecy, and the second ability to astral project, Prue was the most level-headed, calmest, sophisticated, and probably the most powerful of the three. Prue was always an "over achiever", the Charmed One who was most firm about defeating the Triad and The Source, and practicing The Craft. She overcame many obstacles too, the death of her mother, drowned by a demon, and the death of her old boyfriend, best friend, and perhaps the one guy she truly loved, Andy Trudeau. Prue Halliwell will always be remembered, and so will Shannen Doherty, who did an excellent job playing her...
First known for her starring role as Brenda Walsh on "Beverly Hills, 90210," Shannen Doherty returned to series television and teamed with Aaron Spelling again for the first three seasons of "Charmed."

Doherty was born in Memphis, Tenn., where she lived until she was seven. Her family then moved to Los Angeles, and she got her first big acting break when the late Michael Landon discovered her in an episode of "Father Murphy." He cast her at age 11 as Jenny Wilder in the series "Little House: A New Beginning." Doherty went on to star in the series "Our House" and "Beverly Hills, 90210," the show that made her a household name. She played the teenage twin sister of Brandon Walsh (Jason Priestley) on the popular Aaron Spelling drama from 1990 to 1994.

Moving effortlessly between television and film, Doherty starred with Christian Slater and Winona Ryder in the 1989 black comedy "Heathers." Her other big-screen performances include the teen comedy "Girls Just Want To Have Fun" with Helen Hunt and Sarah Jessica Parker, Ron Howard's "Night Shift," and "Mall Rats," directed by Kevin Smith.

Doherty won rave reviews for her performance as the famous "Gone With the Wind" author in the television movie "A Burning Passion: The Margaret Mitchell Story," and starred opposite Antonio Sabato Jr. in the Showtime original film "Jailbreakers," directed by William Friedkin. She also starred in the miniseries "Gone in the Night" and "Robert Kennedy and His Times," as well as the TV movies "Sleeping with the Devil," "The Ticket" and "Friends 'Til the End."

Coming Soon:
Brian Krause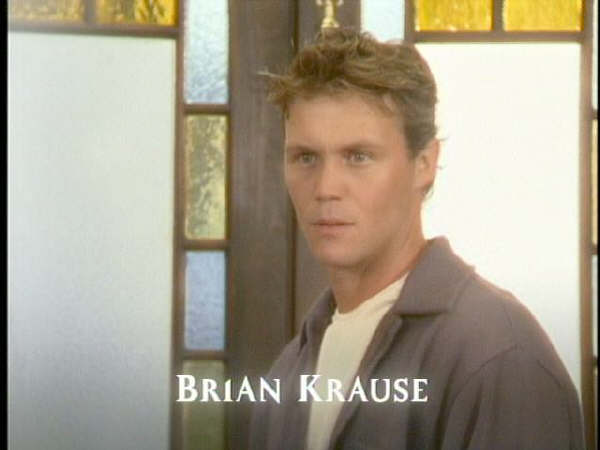 Brian Krause...
Has "charmed" his way into the otherworldly Halliwell household playing Leo, the resident guardian angel who married Piper (Holly Marie Combs).
Krause first rose to attention when he starred opposite Milla Jovovich in The Return to the Blue Lagoon. Shortly thereafter, he landed the lead role of Charles Brady in Stephen King's feline thriller Sleepwalkers. Additional features credits include Breaking Free with Jeremy London and Christine Taylor, Naked Souls with Pamela Anderson Lee, The Liars' Club with Wil Wheaton, and December costarring Balthazar Getty and Jason London. He will be seen next opposite Judd Nelson in the television thriller Return to the Cabin by the Lake.
In addition to his series regular work, Krause has made guest appearances on a number of shows including Walker, Texas Ranger and Tales From the Crypt, as well as a six-month stint as Matthew Cory on the daytime drama Another World.
Born and raised in Southern California, Krause enjoys playing golf, tennis and basketball when he's not on the beach or playing Scrabble with friends and family.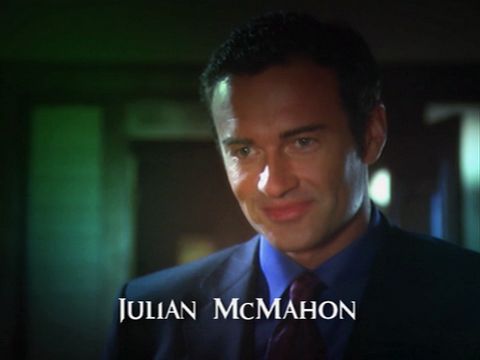 Julian McMahon...
Plays(ed) Cole Turner, once the demonic Belthazor. Cole has been the most dynamic character, going from evil demon, to good human, to very evil source. Now, having invincible power, Cole is after Phoebe, wanting her love back, even if it means killing her sisters. But on Centennial Charmed, the 100th episode, the girls do succeed in vanquishing him forever. And although he died basically insane, the Halliwell Family will never forget him, and i'm sure neither will we...
Until he took on the role of the demonic Cole on Charmed, Australian actor Julian McMahon was best known to American television audiences for his portrayal of Det. John Grant on the award-winning drama Profiler. Last year, his growing legion of fans were also able to see him star with Shannen Doherty and Brad Renfro in the television movie Another Day, executive produced by Francis Ford Coppola.
The son of the late Sir William McMahon, who served as Prime Minister of Australia in the '70s, McMahon grew up in the public eye until he escaped into the halls of academia as a law student at the University of Sydney. During his first year there, the limelight beckoned, and after working in several commercials, he won the lead in the primetime drama The Power, The Passion. Law school became a memory as he moved on to star in a second hit series, Home and Away
Moving to the United States to continue his career, McMahon broke into American television with a two-year stint as Ian Rain on the daytime drama Another World. He also co-starred in the cable movie In Quiet Night and guest-starred on Will & Grace.
On the big screen, he appeared opposite Elliot Gould in the feature film Wet and Wild Summer, appeared in Magenta and co-starred with Jeff Daniels in Chasing Sleep. He has also starred on stage, most notably in Sydney and Melbourne productions of Love Letters.
McMahon now lives in Los Angeles where, when not spending off-screen time with his toddler, surfs, bikes and cooks. McMahon helped to design and landscape his own yard and grows a great range of fruits and herbs that he uses in the kitchen.